Estimated reading time: 14 minutes
Understanding the array of paints that sign painters use, is a fundamental aspect of the brush painting method. This informative photo guide will explain a brief summary of each of the most often used paints which I have applied by brush, over the last thirty years. All are suitable to use for exterior sign making.
You will gain knowledge in choosing the correct paint to substrate selection. As well as learning the paint layers process for protecting painted exterior signs which will last.
This is not a definitive selection of every paint from every manufacturer, but more a shortlist of easily sourced (UK) and affordable paints for exterior sign making. This guide can help with reference when following the accompanying sign painting guides throughout this blog.
Which way to colour a sign?
Dependant on the objective of your project, quantity, size, location, cost, lead time and expected lifespan; various production methods can be used for making exterior signs.
Most sheet material manufacturers stock 'off the shelf colours' which are suitable for a multitude of applications and reasonably priced. The popular standard colours and finishes are limited, and can also be very expensive to manufacturer specific colours for single or small quantities.
There are a huge selection of colours and finishes of manufactured, self-adhesive, vinyl. The films can be applied to panels by 'wrapping' the sheet material, bonding a skin to the surface. However, there are limitations to vinyl roll widths and barriers to application surfaces. These negative factors can also cause poor adhesion and visible tiled segments.
Digitally printed vinyl can produce an almost unlimited gamut of colours which can then be applied to standard sheet materials. Again, adhesive vinyl has limitations and printing can be costly for smaller panel projects.  
Spray painting and plastic or powder coating are sensible and reliable options with an almost unlimited selection of colours and finishes. These options are better suited for complex shapes, outsourced to professionals with the correct industrial equipment. Single and small projects can often be costly.
Why brush paint a sign?
Choosing to brush paint a sign panel is most suitable for bespoke coloured and custom shaped signs, which are expected to last for years in challenging exterior conditions.
By painting a sign with a brush, the painter has full control of the process. Painting thriftily if necessary, can reduce production costs as well as minimising adverse effects to the environment. Reliable, exterior paints are often cost effective, re-usable and can last for years if stored correctly.
There is also an added charm which is apparent with a custom crafted and painted sign.
The important disclaimer
Paints are chemicals and can be harmful if used irresponsibly.
Always refer to the paint manufacturer's directions for use. As well as any guidelines for thinning the paints and cleaning your tools to avoid damage to you, others, the environment and your sign.
Disposing of excess paints and thinners is serious. Ask your local authority for advice and never pour paints down the drains or into our environment.
Ask advice from your local paint merchant. If your paint merchant does not know the correct procedures for safe application and disposal, find a merchant who does and purchase from them.
Most substrates and surfaces require thorough preparation before a coat of paint. Obviously, any loose dirt or debris should be removed from the dried painting surface as well as ensuring a dry working environment.
The temperature of your working environment is also conducive for paints drying suitably. Too cold can thicken the paint during application as well as wrinkle the finish. Paints usually take longer to dry in freezing conditions. An overly warm environment can quicken the drying time during application and make the paint thicker too.
Clean the rims and seal your tins of paint firmly. This will save you throwing out half used / half dried paints and avoid any annoying spillages.
Masonry primers
Use primers as base coats and sealers for bare and prepared surfaces before the top coat (finish paint and top layer) is used.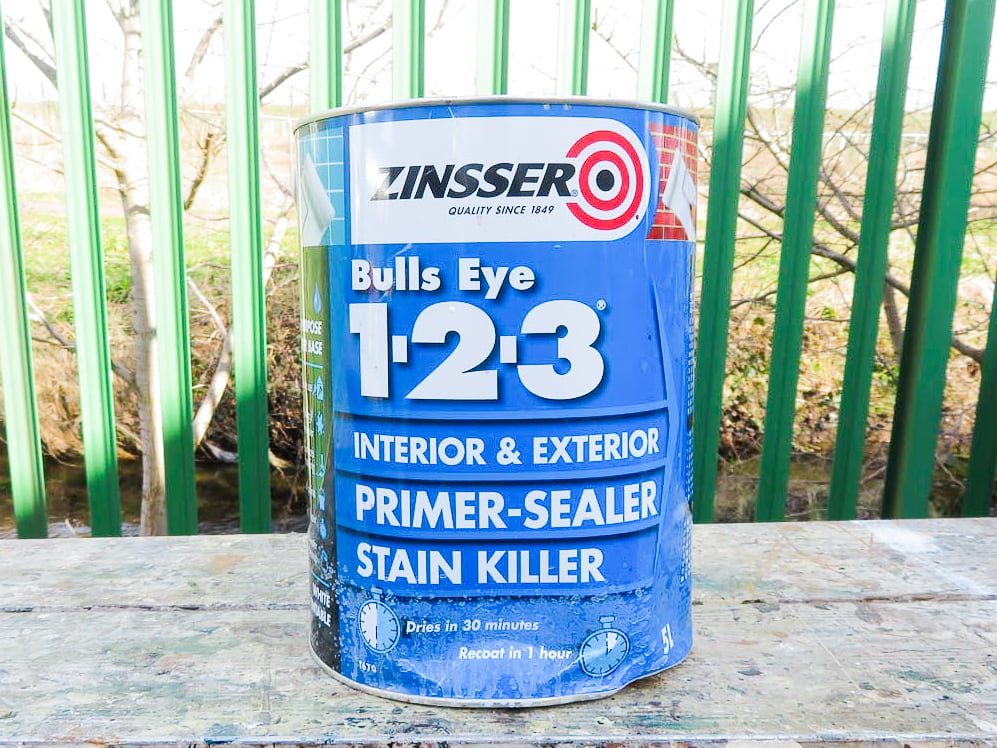 Used for direct application to masonry and stone surfaces, Zinsser Bullseye 123 is an excellent choice for a strong base coat.
It seals and covers, leaving a smooth canvas for painting over. It also spreads well by brush or roller, with an almost elastic flow. Water based, quick drying and overcoatable in the same 24hr period make this a must choice for exterior stone wall signs.
Metal primers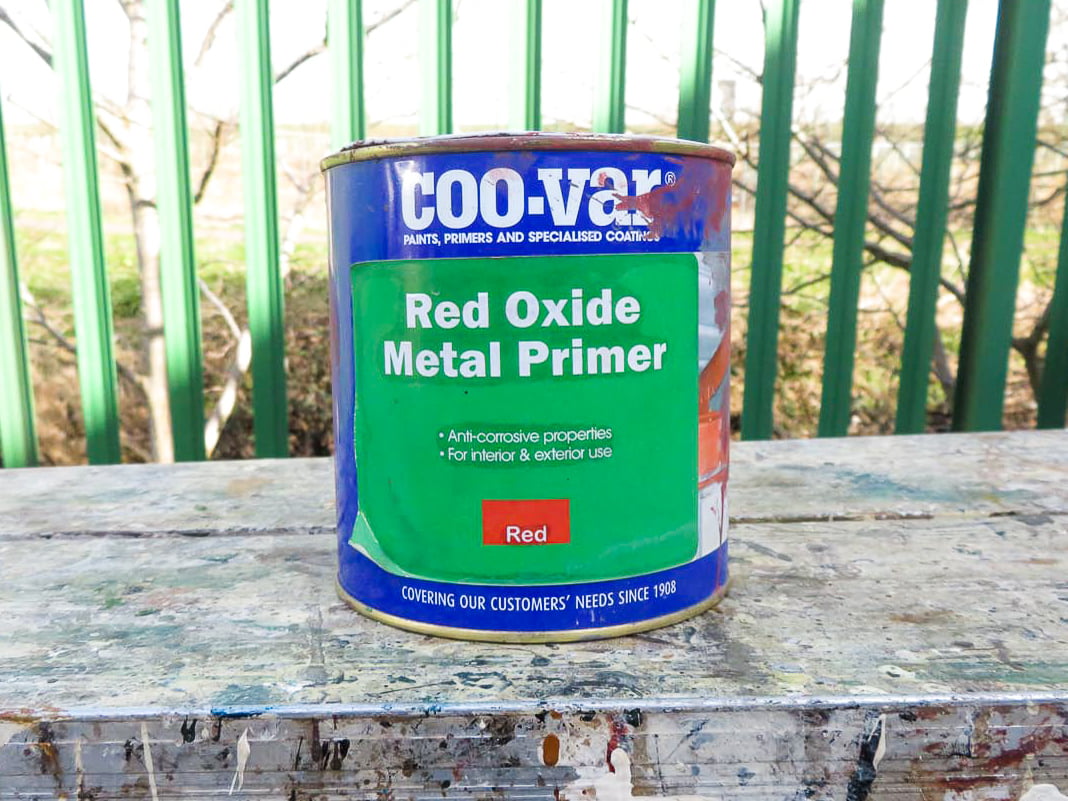 Red oxide is a favourite for wrought iron work, used for decades by metalworkers. It's anti-corrosive properties aids in abating rust and is available from many manufacturers. I recommend using red oxide for iron frames, fixings and cut-out shapes.
Thinning is usually necessary for better flow by brush and generally lays and dries flat quickly. Second coating is not always necessary.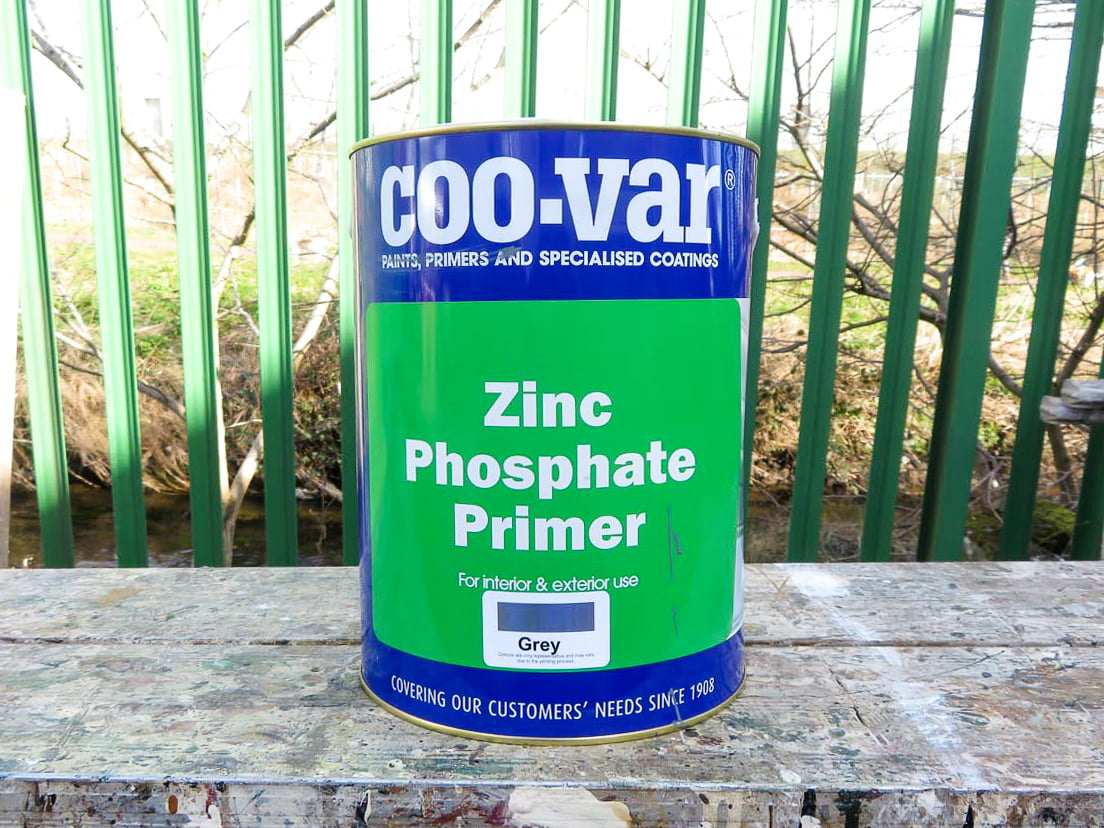 Another must have addition for your metal panels painting projects. Zinc phosphate primer is suitable for most alloys and is especially useful for priming aluminium.
It holds good anti corrosive properties as well as covering suitably and touch drying quickly. This stuff grabs onto the surface of metals, providing a solid layer for your next coat.
Wood primer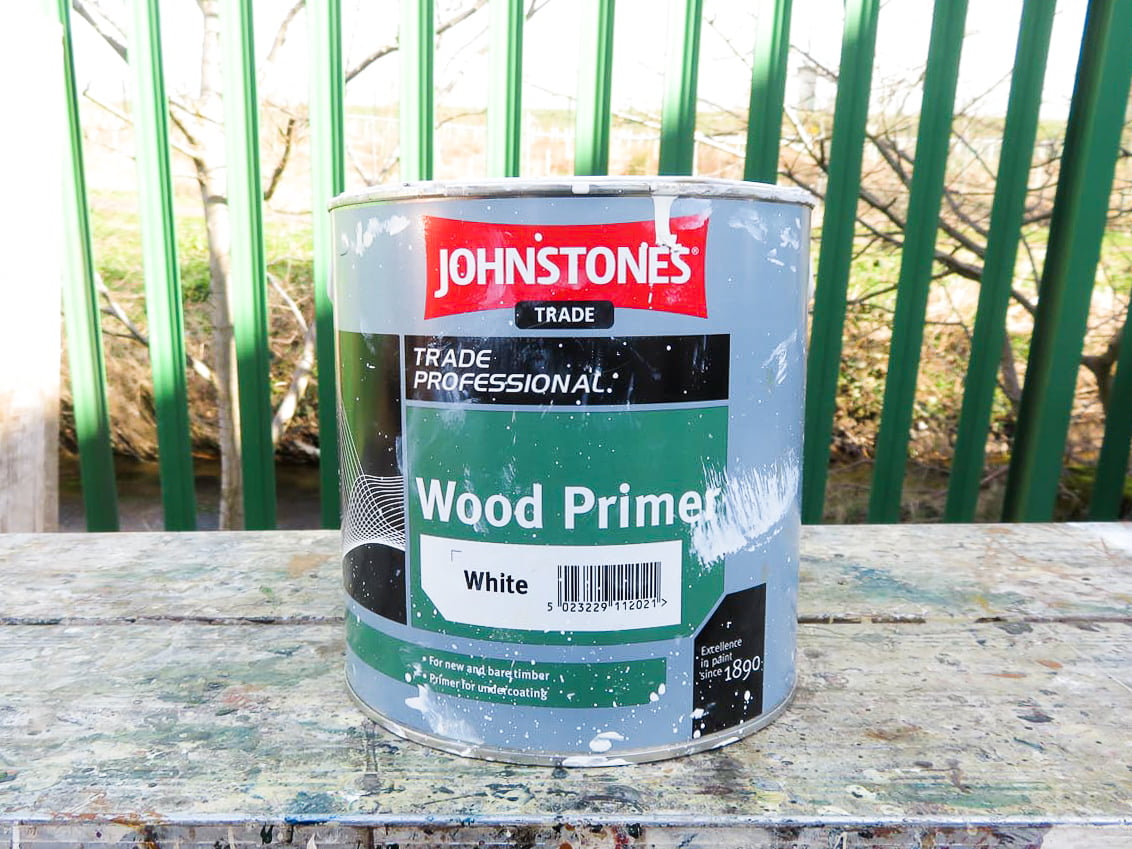 If you want to make bare wood or plywood surfaces into decent, solid coloured signs, you will need wood primer. I use mainly oil based paints for exterior sign making and oil-based wood primer the most.
I most always thin the primer with white spirits / turpentine, especially when painting large flat areas. Johnstone's wood primer is my preference and available from many national and independent paint merchants. It's cost effective, reliable and solidifies well, especially after two coats.
In most plywood painting circumstances, I use two coats of thinned wood primer before one coat of undercoat. Then at least two coats of gloss dependant on the coverage, per side of panel. This method of building up paint layers ensures longevity for plywood signs in harsh exterior conditions.
Johnstone's oil-based wood primer enables a sound base for this method.
Wood stain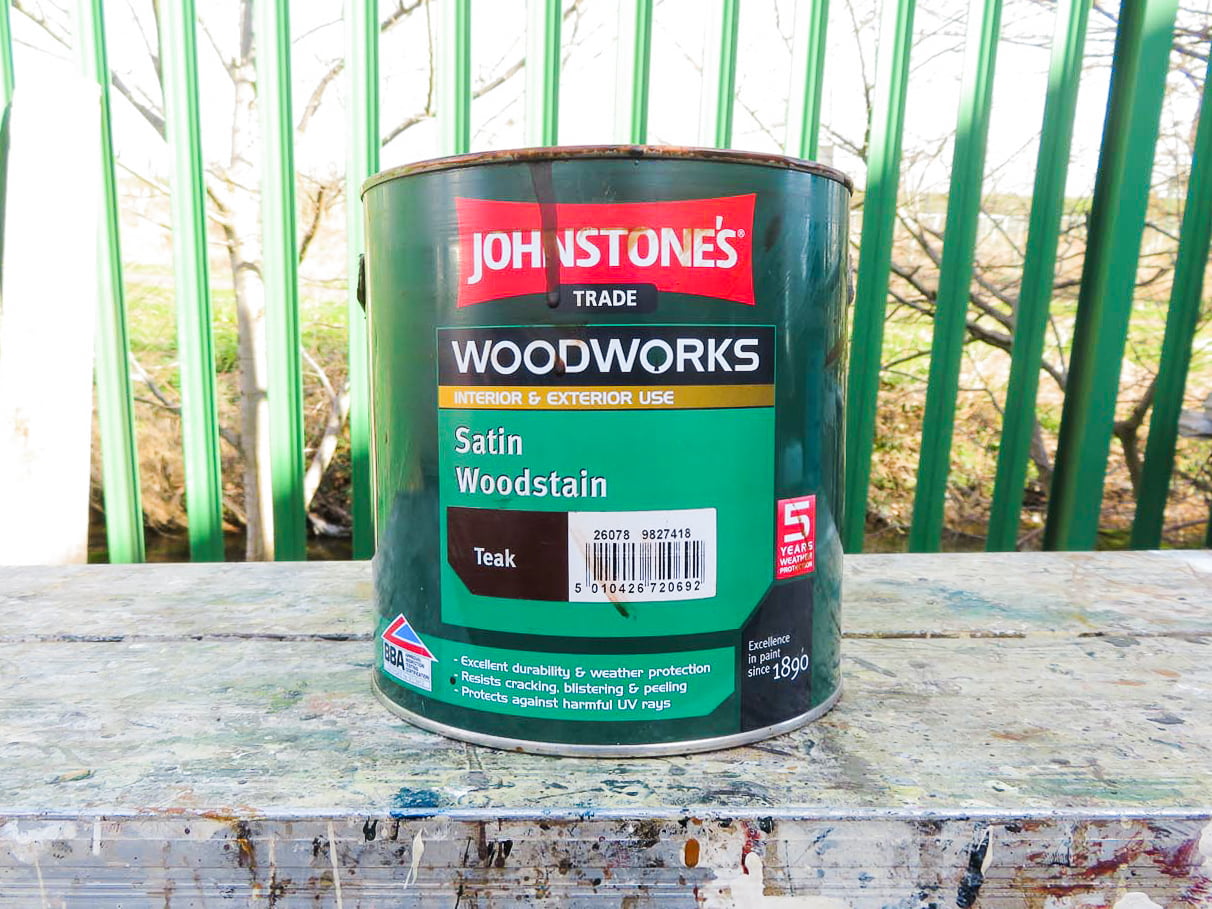 Wood stains are used for enhancing the natural wood grain of plywood, hardwood and softwood. They can be painted directly onto wooden surfaces as a primer and as a finish coat.
Varnish can also be brushed on top for extra depth and durability, if desired. Experimenting with natural wood grain finishes and solid colours opens a new world of effects for sign lettering and graphics.
The wood stains are available in several tones from many manufacturers and provide interesting contrasts with different wood veneers.
Varnish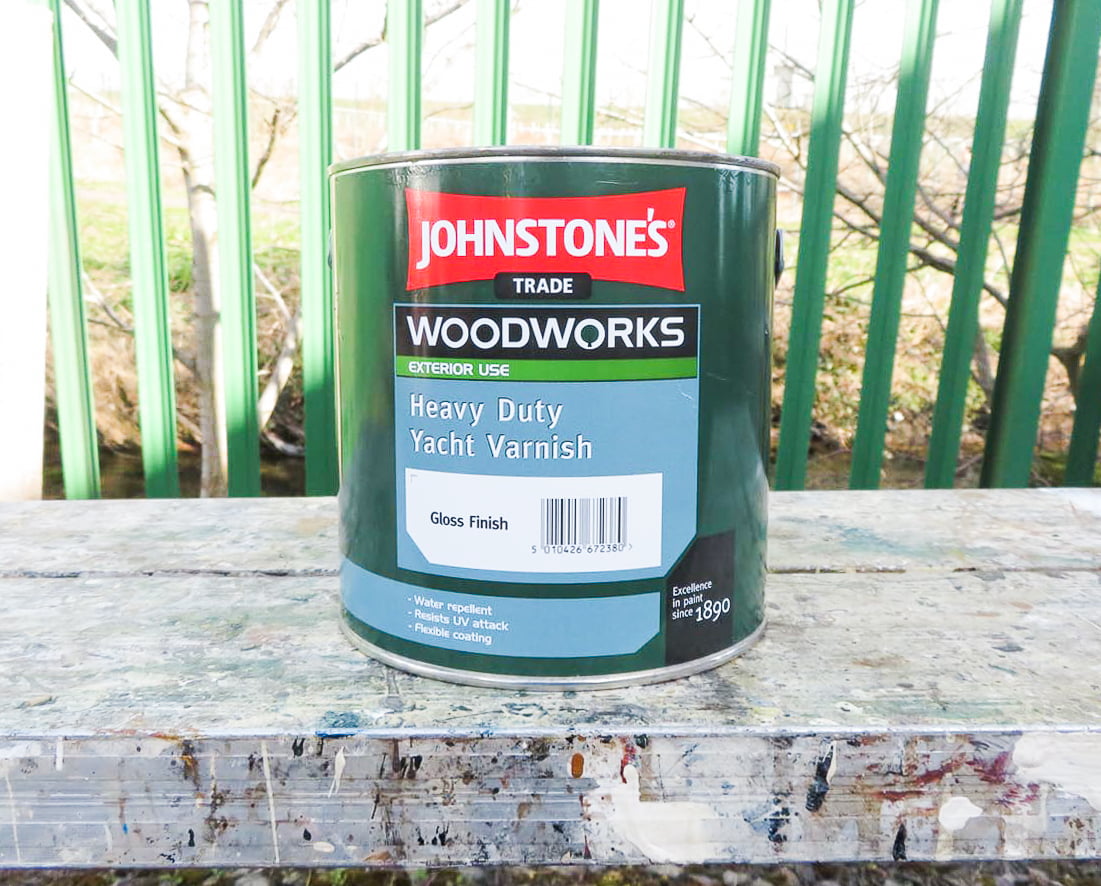 Varnishes and lacquers are generally available in matt, satin and gloss finish. Water and oil based options are widely available for brush application. I do advise however, not to use a roller when varnishing due to bubbling caused with the roller pads.
Varnishes can be used to paint directly onto bare or treated wood and sometimes used as sealers before wood staining. This is a contentious affair, but I would not rule it out.
For deep, high gloss finishes which will protect and lengthen the durability of wood stains or sign lettering, I recommend using yacht varnish. After years of exterior exposure, the panel can be sanded and varnished again. This rejuvenates the sign and most often prevents a complete overhaul or replacement.
Using any varnish will, however, discolour your paints below it. Always test a sample first.
Hammerite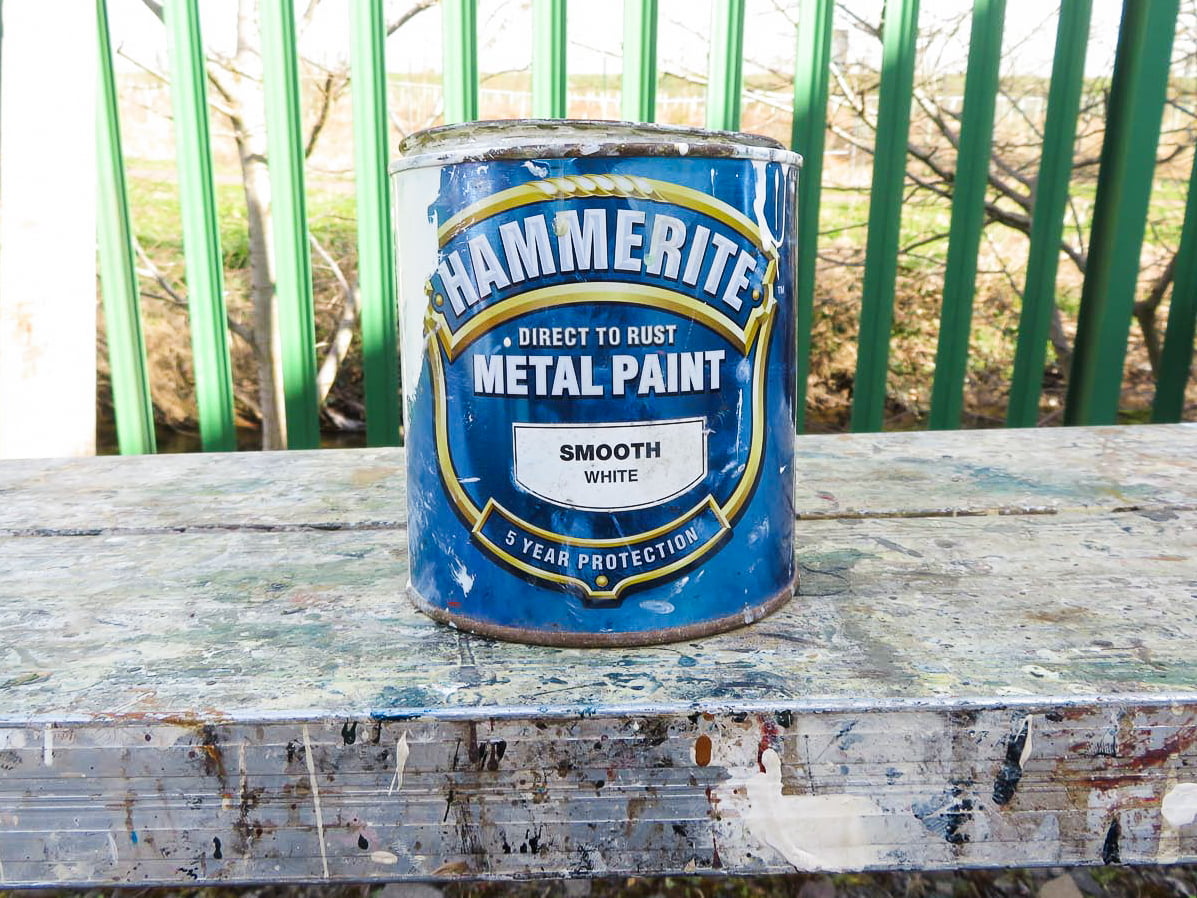 Another universal paint well known for it's hammered finish is Hammerite.
Not a common paint coating used for sign panels, but worth mentioning in this guide for painting iron work or metal frames and fixings. It's well worth having a litre of black in your stock for any poles or flat bars used for signage fabrication.
This stuff dries rapid when brushing and requires overcoating within a specified time frame. This reaction makes the chemical properties bond adequately to the metal surface. So, it can be an extended painting session when using this choice of coating.
Masonry top coat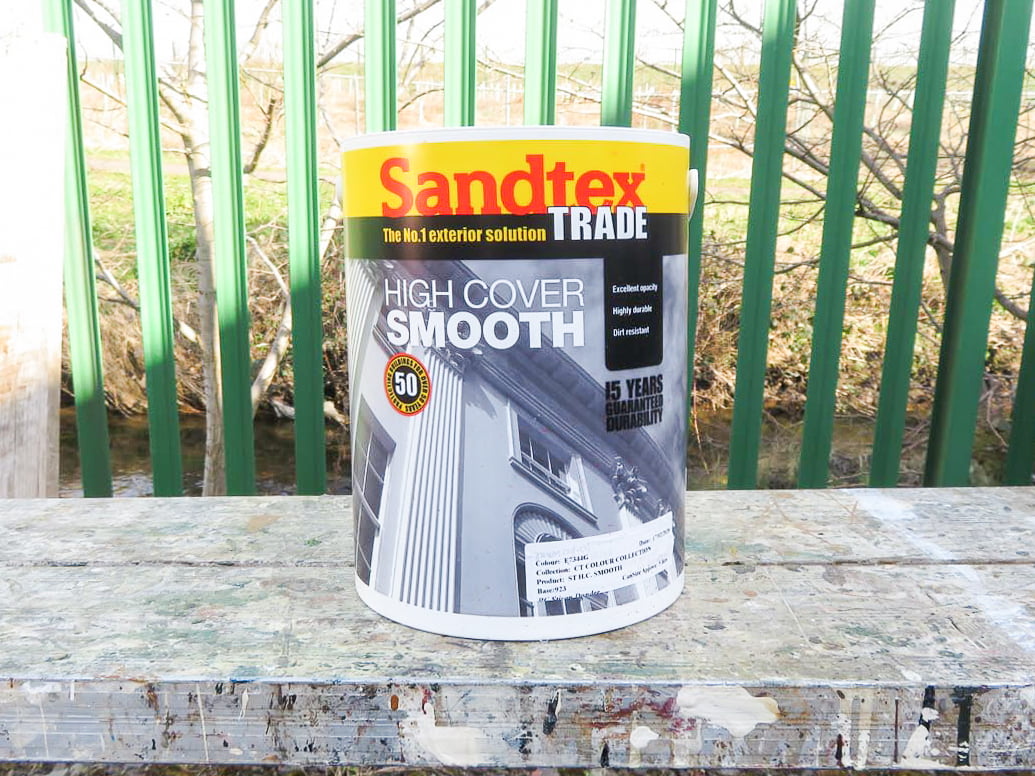 Masonry paints can be thick to handle for detailed sign work on walls. However, it is important to use the most suitable paint for your project to be certain that it can last. The selected paint shown here is good for large background areas and most colours cover well as a water-based paint.
Sandtex has a vast selection of colours which are mixed to order; but importantly, many are limited for use in exterior environments. The manufacturer advises against using most reds, pinks, oranges and yellows on surfaces which will receive direct sunlight. This is due to UV rays fading the pigment in the paint.
Other masonry paint manufacturers are available for specific wall paints which can be used for sign work. It is advisable to talk with your paint merchant to ascertain the paints' properties, and how to mix your desired colour.
Oil-based undercoats and gloss paints can serve as reliable masonry paints for detailed sign work. These paints are also available in a myriad of colours, but coverage and opacity can pose problems.
Always use suitable primers before painting top coats onto porous masonry or stone. Remember, that for use on exterior masonry and stone: oil on water, never water on oil.
Undercoat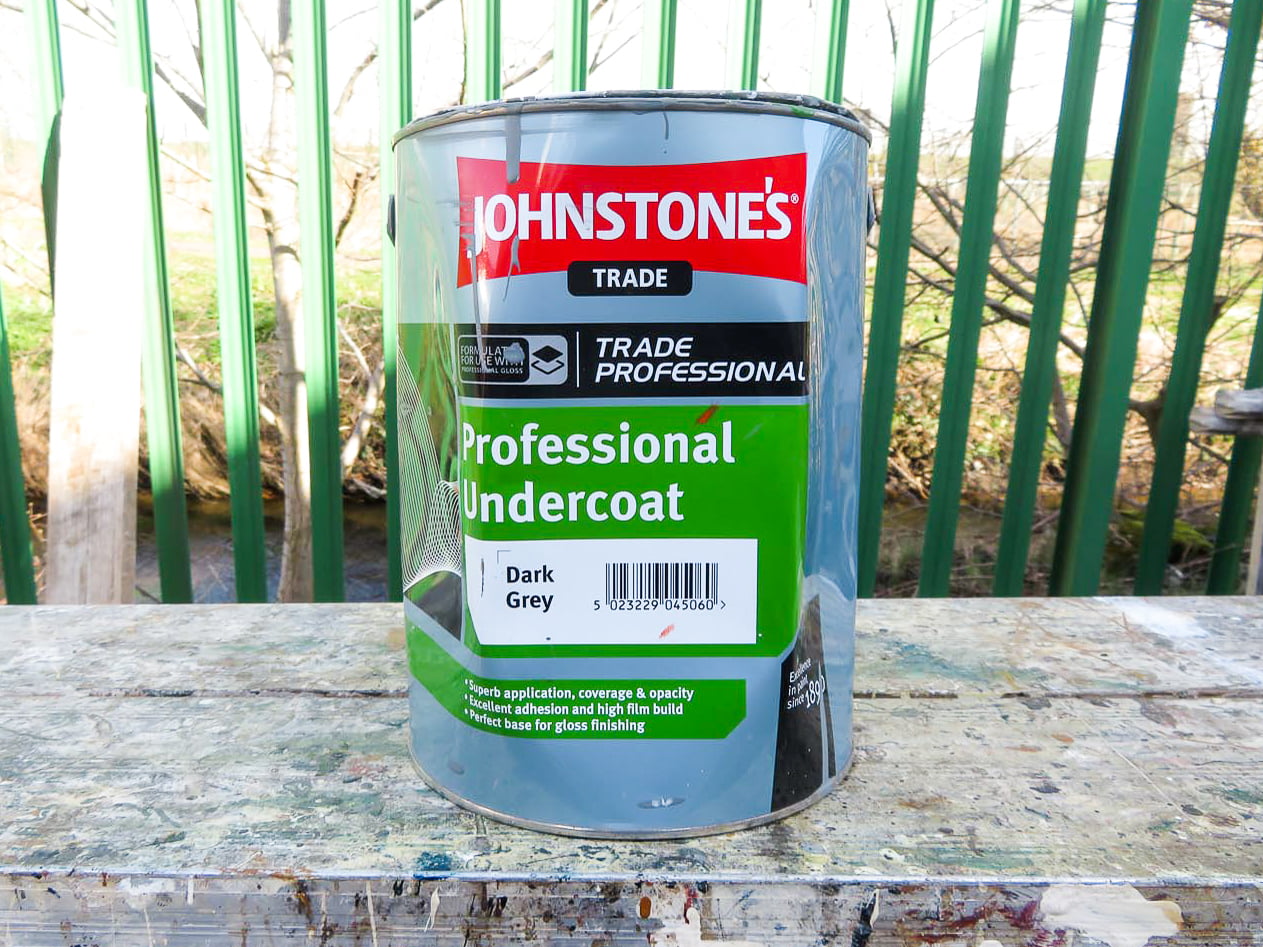 Oil based undercoats are a mainstay for solid and long-lasting exterior plywood signs. The undercoat is applied on top of the wood primer and not only acts as a leveller for the top coat (blocking out open woodgrains), but also helps in building protection for the wooden surface.
Used extensively for most painted signs which I have ever produced, there is a noticeable, poorer difference in finish if the undercoat is not used. Keep your undercoat thin and let it act as a surface grabber for your top coat.
After priming and undercoating, the bare surface colour of your panel should become less noticeable. The undercoat should be as close as available in colour, to the top coat. This selection helps the top coat's opacity become more solid and completely block out the bare surface colour. Use this chart for reference.
Gloss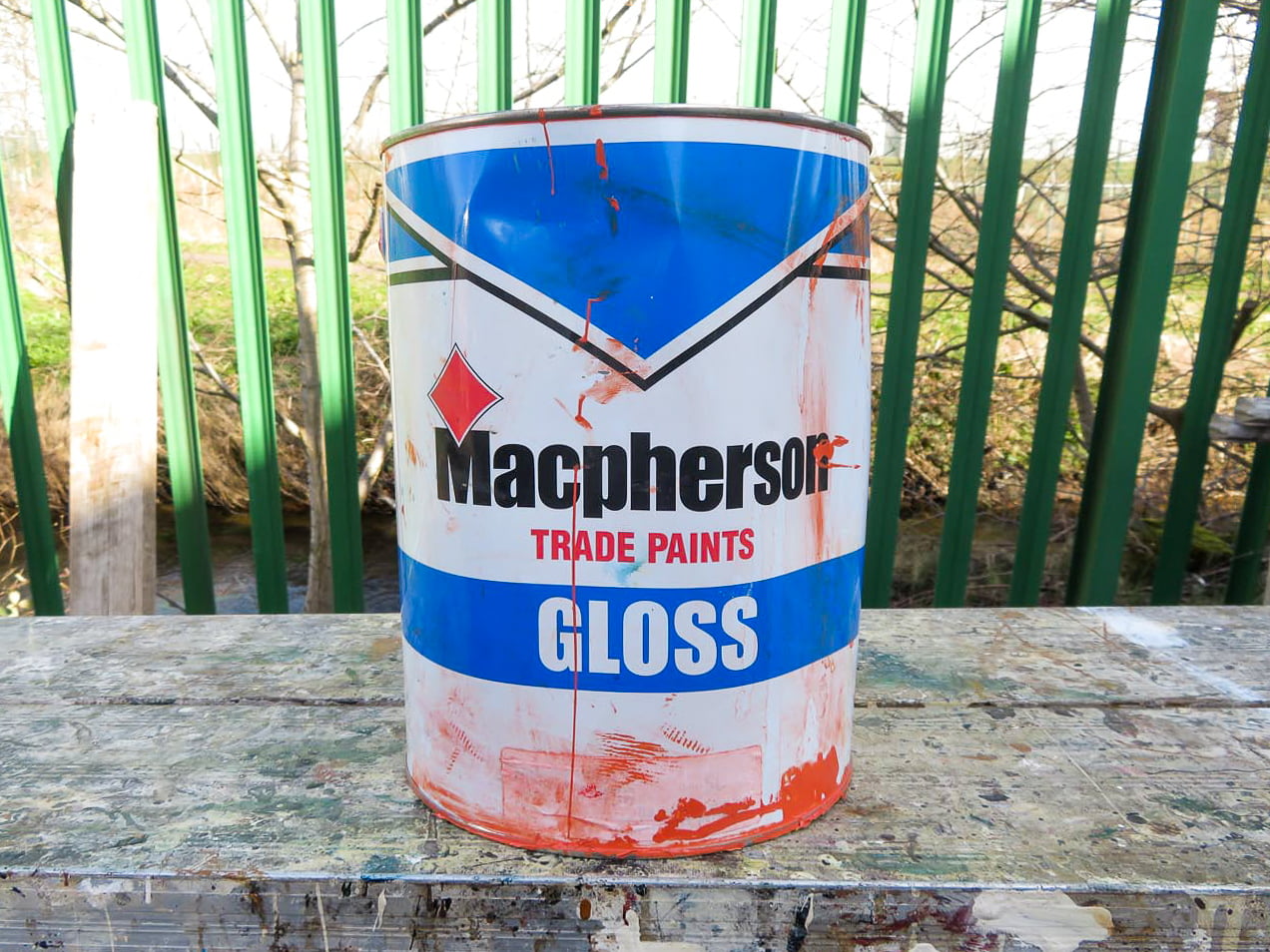 Gloss paints are oil-based top coats which should be used mainly for the background colours of your signs. They can also be used for some lettering and graphics but will depend on their efficacy. Most often, gloss paints will require thinning for workable brush painting and tend to take the longest of any paints to dry.
Oil-based gloss paints will often harden in the tin if not sealed adequately. As well as a skin forming over the already used paint inside the tin. If this happens, cut the skin with a sharp blade or edge of a scraper and strain the paint before use. Strainers are easily sourced from merchants and auto body paint suppliers or use a pair of old nylon tights.
Decorating grade, gloss paints are widely available in varying qualities from numerous manufacturers. My advice for colour opacity is that reds, oranges and maroon / burgundy are poor covering. It is wise to spend a little more on a good covering paint rather than spending time on several coats of gloss.
Coach Enamel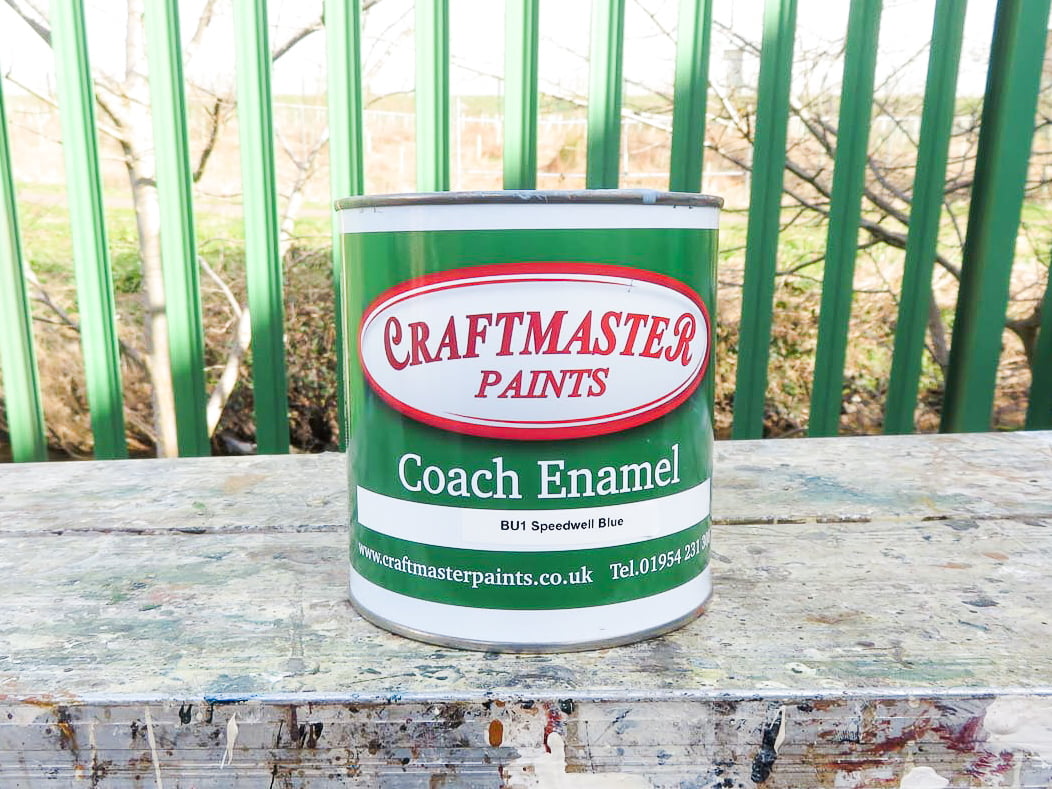 Coach enamels are generally used for automotive panel painting. Like oil based, gloss top coats, they also provide a high gloss finish. In theory, enamels should be harder wearing and more workable than decorating grade gloss paints.
Enamels are designed to dry for hard coatings and a wise choice for sign panel painting. However, this choice can be an expensive one, so it is sometimes hard to justify.
In general, enamels are better to use with writing brushes for sign work due to their flowing ability and coverage. Reds, oranges and maroon / burgundy are still often poor covering.
Signwriting enamel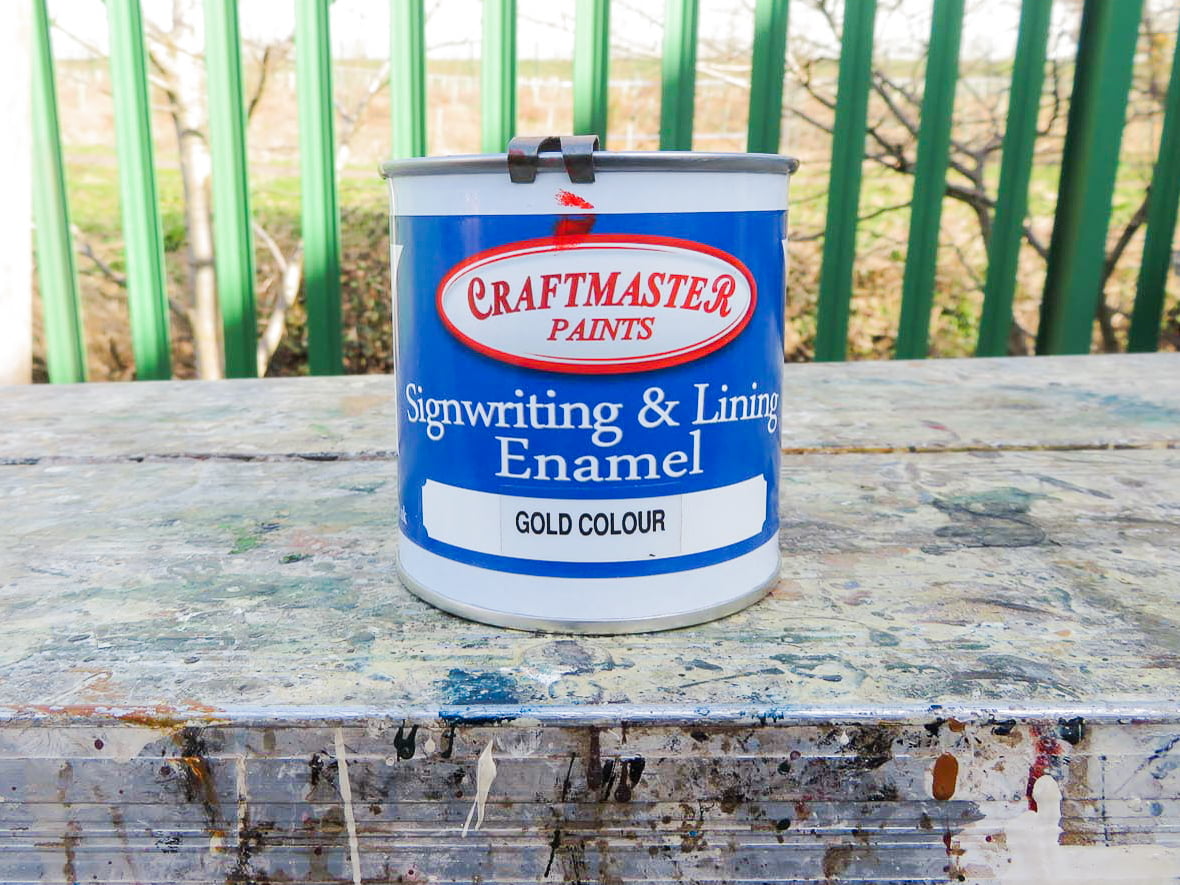 Craftmaster's traditional lettering enamels are made in the United Kingdom and available from several stockists as well as the manufacturer directly.
Used mainly for working on vehicles and canal boats, the range of paints are of a high standard for signwriting and pinstriping. Reasonably priced and with additional support from their online resources, the Craftmaster brand is worth knowing.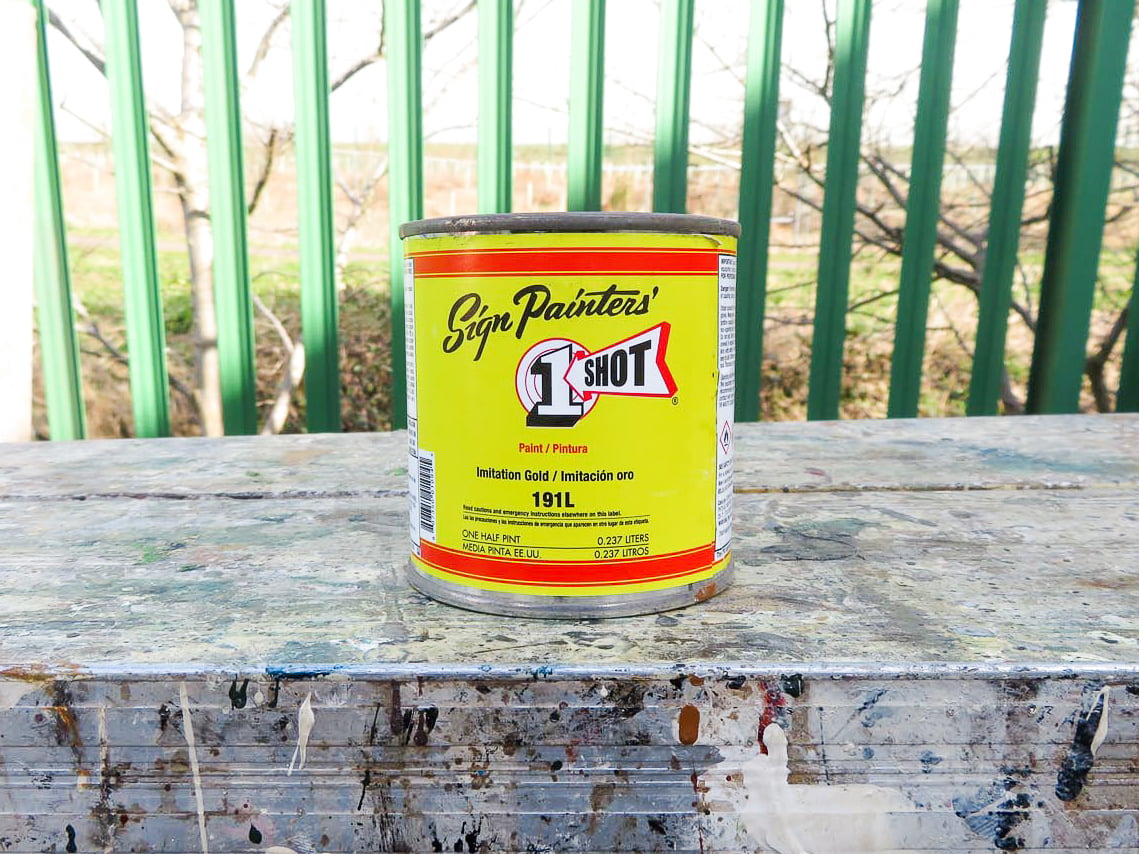 Arguably, the most famous and revered signwriting paint in the world; One Shot.
With an exceptional range of steadfast colours and finishes, most notably the superior gold metallic, One Shot has painted the way for generations of signwriters worldwide. The opacity and free flowing properties of most of the range of paints are of a very high standard.
Used by the best in the world for decades, the paint's reputation is reflected in its price.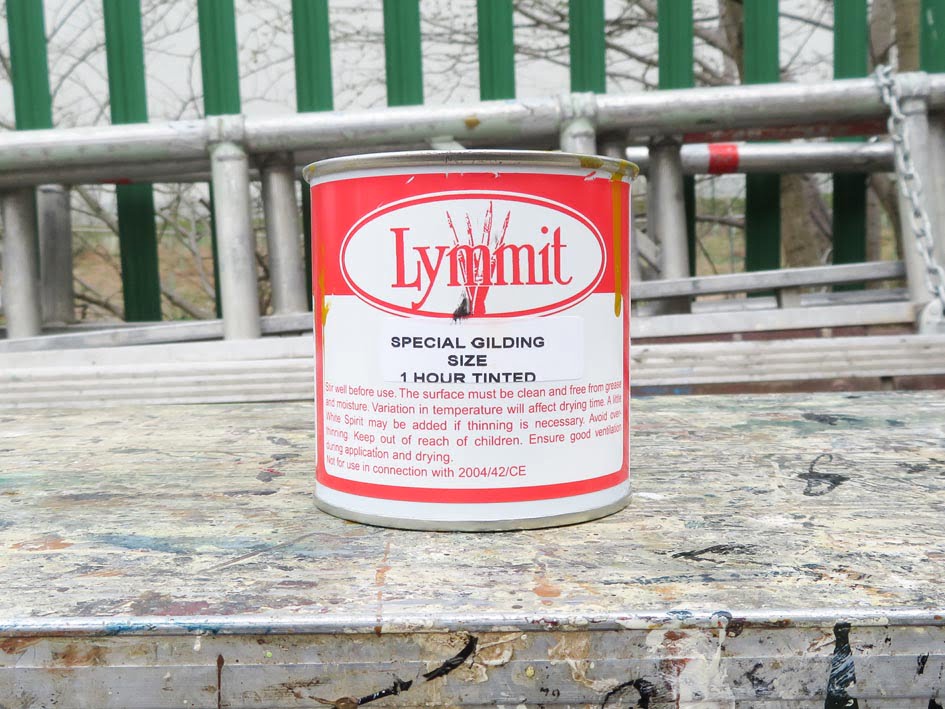 Wright's of Lymm are also a well respected and long established British manufacturer of paints and sundries. Specialising in gold leaf and very knowledgeable about all aspect of gilding, their selection of products is exemplary.
Gold size is a paint which has a similar consistency to enamel and appearance like yacht varnish. The size is clear but often tinted, which enables the signwriter to see what she or he is painting. After a short while, the size turns tacky, just before 'going off' (drying). It is at that point that the gold leaf can be applied to the tacky surface.
Gold size is mainly available from signwriters' supply stores but can sometimes be found tucked away, at the back of paint merchants' shelves.
Fast drying additives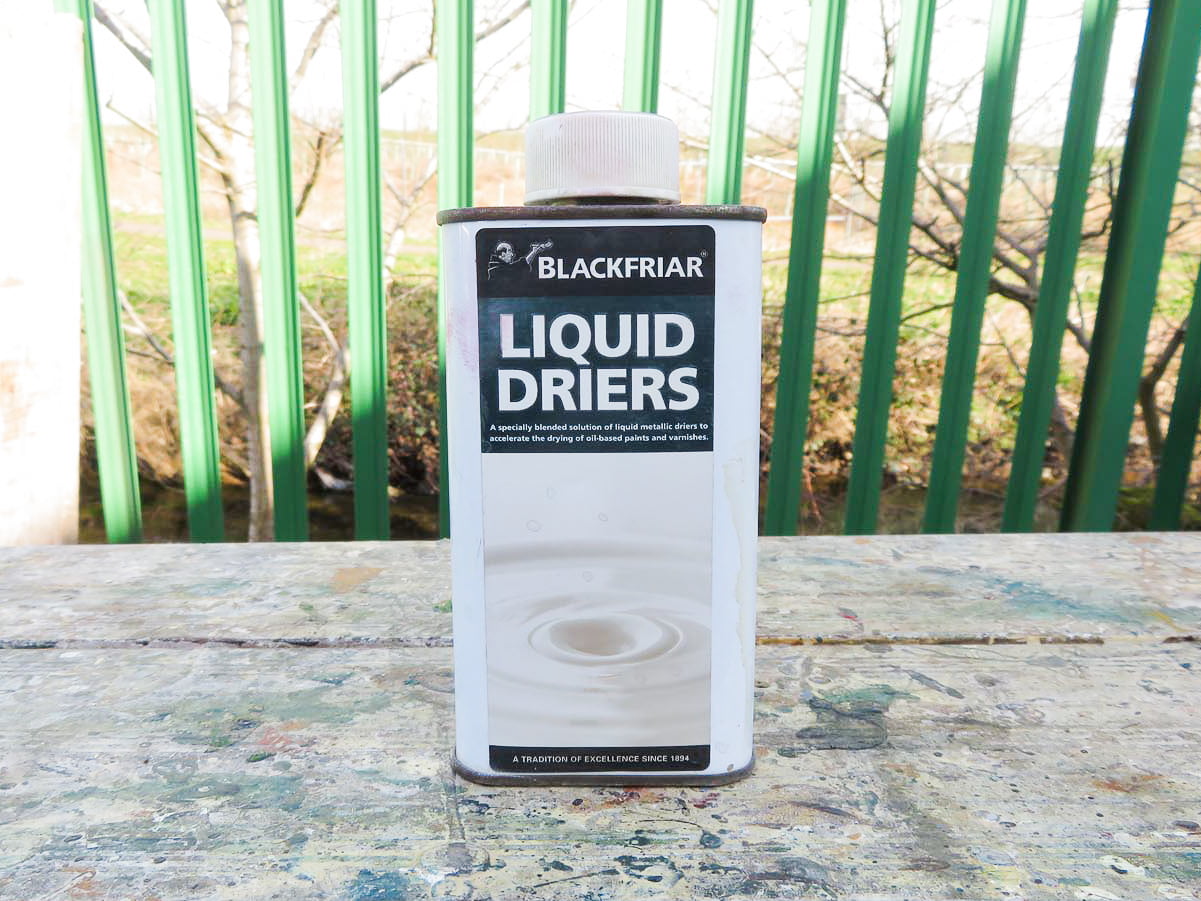 Not a paint but deserved of a mention in this guide are dryers.
Used sparingly and with caution, fast dryers enable slow drying or slow curing paints to harden faster. Especially useful in colder temperatures, dryers have saved me standing in the cold for too many hours more than planned.
Please take the time to learn how much to use and which paints are compatible with the various dryers available on the market. They may be of vital use in one of your projects but can lead to unsatisfactory results without testing first.
Key points
Read the directions for use on all the paints you purchase
Find reputable and reliable paint merchants and stockists
Dispose of paints and chemicals safely and responsibly
Keep your undercoats thin
Beware of poor covering reds, oranges, maroon and burgundy
Take it easy with the fast dryers
Thanks for reading.